At Precon, we have spent more than 50 years focusing on the manufacturing of all types of products for their installation in railways, undergrounds and trams, and to the design of special applications for such tracks, all of them in precast concrete. With half a century of experience, as of today PRECON is, no doubt, a national milestone at technological level and in solutions offered in the market.
The quality and innovation in railway product has always been in our daily endeavours. Thus, we have always participated in all the new designs, developments and evolution of railway products.
The most significant facts in the railway products division since PRECON's foundation are:
1958: Opening of the first railway products factory.
1976: Costain type prestressed sleepers and DYWIDAG type posstressed sleepers manufacturing tests.
1988: Collaboration in the development of the all-purpose sleeper PR-90, valid for traffic in standard or Iberian gauge.
1992: Project AVE Madrid-Seville. First Spanish manufacturer of diversion sleepers for high speed trains.
1990-1994: Design and fitting of biblock sleepers to insert with wooden sleepers, all-purpose PB-91 sleeper and biblock BR-94 sleeper.
1999-2006: Development of AM-00 three lane sleeper and its evolution to AM-05 sleeper, patented by PRECON. Valid for circulation in standard and Iberian gauge simultaneously.
2008-2011: Development of sleepers MI-08 and MI-11 for traffic in both metric and Iberian gauges simultaneously, together with INECO-TIFSA and validated by FEVE.
2010: Development of sleeper MA-10 for traffic in three gauges simultaneously: Iberian, standard and metric.
2016: Development of width-reduced sleepers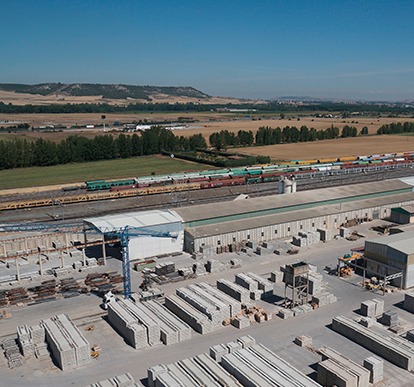 Services
PRECON is the ideal partner for:
The supply of precast concrete products for the railways.
Design of all types of sleepers for track over ballast and products for slab track.
Design and implementation of manufacturing facilities of concrete precast products.
PRECON is the company with the largest market share in Spain and it has supplied sleepers to Algeria, Argentina, Colombia, Turkey and Venezuela. We have developed, individually and jointly, biblock and monoblock sleeper models, special solutions and products for slab track. Furthermore, thanks to our long experience in the railway sector, we have been able to develop new manufacturing systems.