Precon's presentation
At PRECON we provide solutions to any building and civil work structure in concrete precast forms. We have an integral conception encompassing prior advise, the design, the calculation, the manufacturing, the transportation and the assembling at the work site of the structure.
In the railway field, we design, calculate, manufacture and supply concrete sleepers complying with the requirements previously established by our clients. We have an ample portfolio where all the products validated by the Spanish Railways Administrations can be found.
At PRECON, we define ourselves as an engineering company executing projects and the products designed with its own means and with the highest quality standards, assuming full responsibility from the beginning to the end. We aim to provide an excellent service to our clients and to safeguard the welfare and safety our all our workers within a framework of utmost respect towards the planet and the society to which we belong.
Our leading position in the concrete precast business in Spain is based on experience, the most advanced technology, team work and the continuous improvement, that we apply to all the areas of our activity to evolve without stop and to anticipate changes in the market.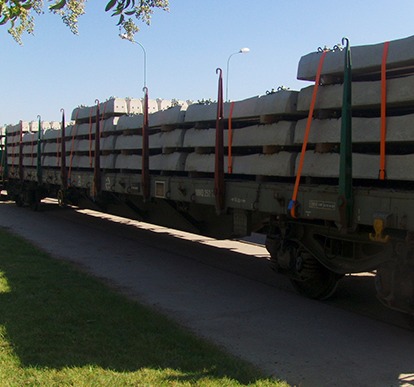 History
PRECON was established in 1952 and it was transformed in a Public Limited Company five years later. It started its activity in irrigation works with precast ditches and in 1958 it started the manufacturing of bi-block sleepers, with which it was awarded a Renfe's tender. In 1974, it carried out for Telefonica the building of precast stations for the rural automatization.
PRECON belongs to the Cementos Molins Group since 1987. The current company was created through a merger process of six companies specialized in several heavy precast forms between 1988 and 1992. The grouped company adopted the name of the older company, Prefabricaciones y Contratas, S.A (PRECON is the anagram), introducing new products such as structures, slabs, closings for industrial building, pipes for sewage works and beams for roads and railway bridges.
The company has continued growing by means of enlarging and modernizing its facilities and the contribution of its excellent human team. Currently, it has factories distributed across the Iberian Peninsula and it continues increasing the diversification of products and solutions for industrial building, civil works and railway superstructure.
PRECON is a leading company in the Spanish sector of industrialized building and it is, at the same time, a company with a clear international projection, due to its high capacity in engineering, manufacturing, assembling of concrete precast forms, and its leaning towards quality, sustainability and customer service.